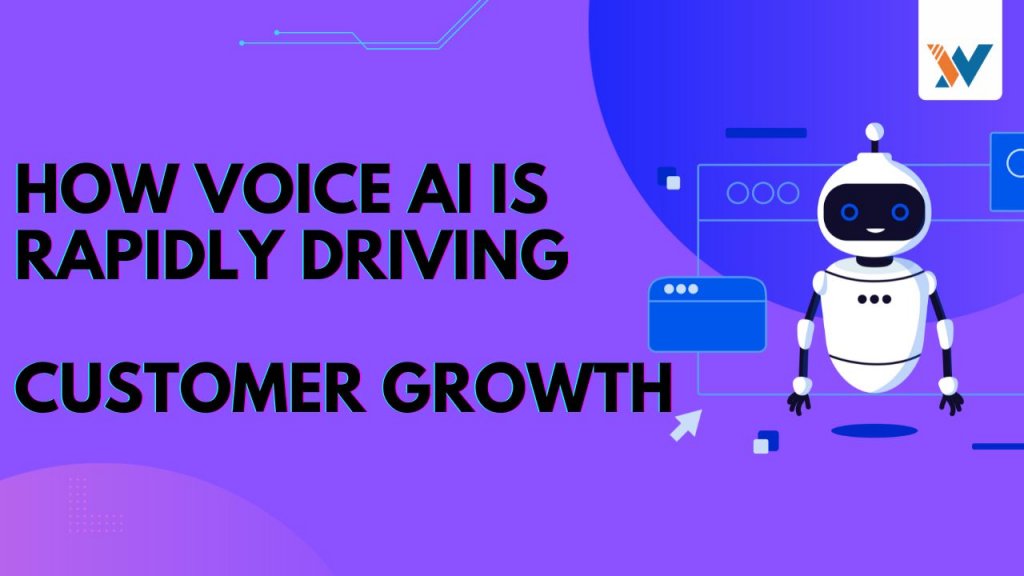 As digital transformation reshapes industries, companies are increasingly leveraging artificial intelligence (AI) to reimage their business operations. Among various AI technologies, voice AI-powered omnichannel engagement solution stands out as a powerful tool, as it enables businesses to automate huge amount of phone conversations while delivering hyper-personalized communication based on customer reactions. Today's customers prefer this kind of direct human connection to address their queries and concerns in real time. In this article, we'll delve into how Voice AI, particularly WIZ.AI's TalkGPT, is revolutionizing customer engagement, leading to rapid customer growth for businesses.
The power of voice AI for customer growth
Nothing beats a human voice conversation when it comes to engaging customers and driving growth. Telemarketing has been a classic yet popular marketing choices for many busienesses. It delivers instant interactivity and feedback that emails, ads, messages, or website visits simply can't match. Customers tend to give phone conversations their full attention. They listen to brands' offerings, ask questions, and provide valuable intent signals, allowing for personalized follow-ups. It's these real-time insights into customer needs that enable impactful conversations and drive greater customer growth.

Voice AI solutions can mimic this kind of natural and real-time human interaction well. Utilizing Automatic Speech Recognition (ASR), Natural Language Processing (NLP) and Text to Speech (TTS), voice bots can really understand how people talk and stimulate human-like interactions based on customer reactions. They respond appropriately to questions and objections, capturing key insights and identifying high value leads for human agents to follow up. More importantly, voice AI allows companies to engage audiences on a massive scale, i.e. millions of calls in a few hours. The bots can work around the clock to spread out time-sensitive promotional offers and filter high-potential leads.

This perfect balance of automation and personalization empowers businesses to scale their outreach and create human connections that is critical for gaining trust and buy-in.
Introducing TalkGPT: a game changer for customer engagement
TalkGPT is a self-service generative AI-powered talkbot by WIZ.AI. It is a game-changer in proactive outbound customer engagement. With zero set-up cost and quick deployment, businesses can build and launch customized Talkbot campaigns that provide human-like and automated phone conversations at scale, in just a few minutes.

Tired of relying on professional support for every script tweak? With TalkGPT, you are in complete control. Quickly tailor conversations to your branded voices and optimize results, no code or AI experience needed. Such rapid adaptability is crucial in situations that require constant iterations in marketing messages or during A/B testings to identify the most effective approach.
High scalablity with human touch

The power of TalkGPT: real-life use cases
TalkGPT provides conversation templates based on known best practices. Businesses can leverage these handy templates and quickly draft campaign messages. Companies can also add a FAQs list. With the list added, TalkGPT can smartly pull answers from FAQs during live conversations, when asked relevant questions.

Based on our conversations with clients, we found TalkGPT is particularly effective in two main scenarios: running promotional campaigns and filtering leads.
Scalable promotion campaigns
Capitalizing on flash sales and limited-time offers is key for boosting conversions. But ensuring your time-sensitive promotions reach customers quickly at scale remains a challenge. TalkGPT delivers targeted promotional messages on scale(up to 1 million in an hour), based on purchase history and CRM data. Real-time intent collection allows for tailored follow-ups to interested prospects.

The bot also handles hesitant customers well. By probing why these people are undecided, TalkGPT uncovers key insights to further define them with a "neutral" or "not interested" tag. The insights can be leveraged to refine future campaign targeting and messaging.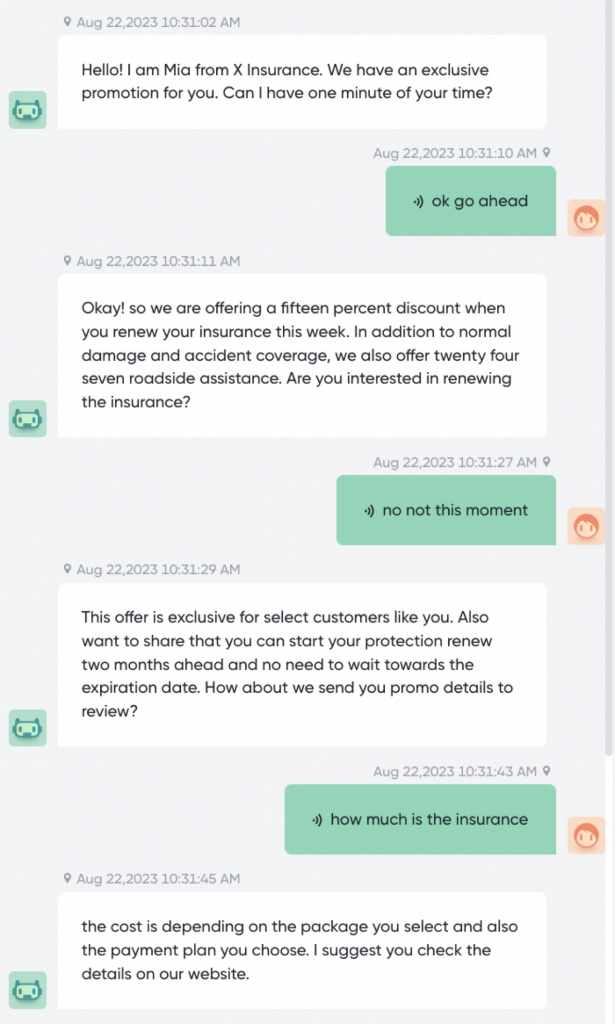 Lead filtering
TalkGPT can be a powerful ally for human agents when selling high-value products such as property or insurance. By making initial calls and asking qualification questions, TalkGPT can identify high-value customers and pass them to human agents for follow-up via calls or WhatsApp.

Overwhelmed by too many leads? TalkGPT provides fast, intelligent lead filtering to focus on what matters. With advanced natural language capabilities, our bots conduct personalized conversations to qualify prospects in real-time. They can engage up to 1 million leads in an hour, capturing key details like budget and transaction intent to instantly categorize hot, warm and cold leads. This takes the manual grunt work out of lead analysis while reactivating warm leads. With voice AI handling initial outreach, human agents can follow up on qualified, sales-ready leads.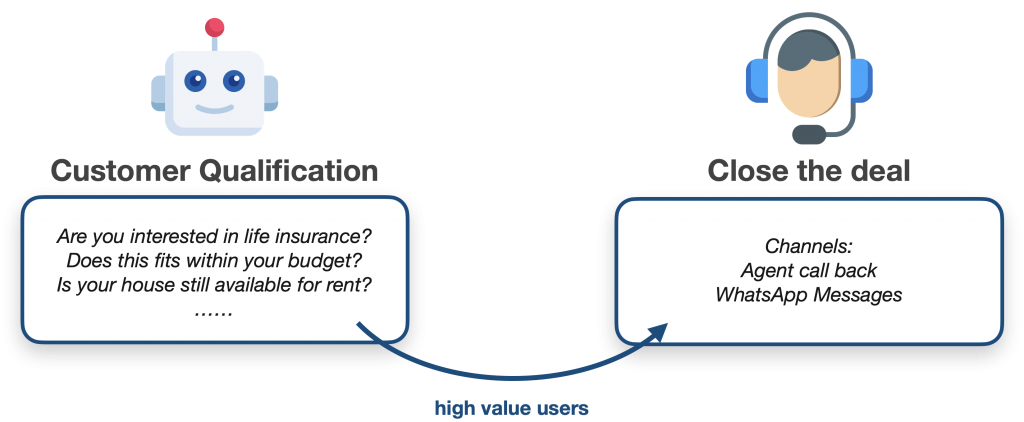 Language support and data analytics
TalkGPT offers multilingual support, including English, Bahasa, Taglish, Thai, Australian English and more to come, making it a versatile tool for local enterprises as well as businesses operating in multilingual markets.

The product isn't just a communication tool; it's also a data powerhouse. It offers insights into call data, customer behaviors and intentions. Businesses can find out insights such as how many people picked up the calls, how many showed interest, and when customers are most available for calls.
Elevate TalkGPT's outreach impact on WhatsApp
Seamlessly blending AI conversational ability with instant messaging, TalkGPT's integration with WhatsApp provides businesses with an omnichannel solution to engage and convert modern customers. Here are a few ways businesses can integrate TalkGPT with WhatsApp to offer nuanced, personalized interactions on a large scale.
Trackable campaigns for maximizing conversions
TalkGPT calls allow interactive introduction of brand offerings, such as membership benefits. WhatsApp messaging then delivers the direct membership registration link. When a potential customer clicks the link to register, this action will be calculated as a successful conversion. This end-to-end experience creates a seamless journey for customers, from initial awareness to final conversion, thereby optimizing campaign performance.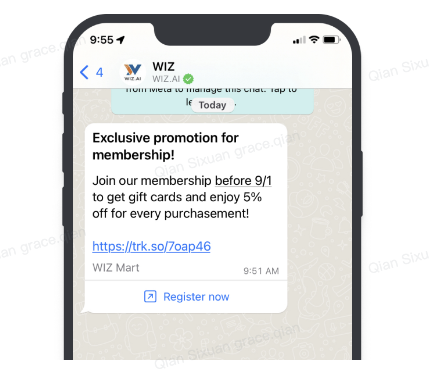 On-demand details via WhatsApp
For complex products like credit cards and investment plans, TalkGPT provides a consultative overview over phone calls. Customers can then request full details sent via WhatsApp for later review. This caters to different consumers' preferences while capturing every potential lead.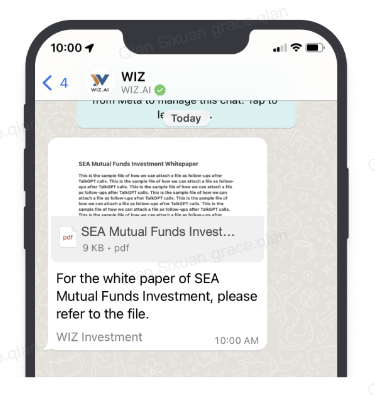 Automated information collection
Customers can ask queries during a TalkGPT call. Subsequent follow-up will then continue on WhatsApp. Questions and responses on WhatsApp are automatically compiled into an organized sheet, ready for businesses to review.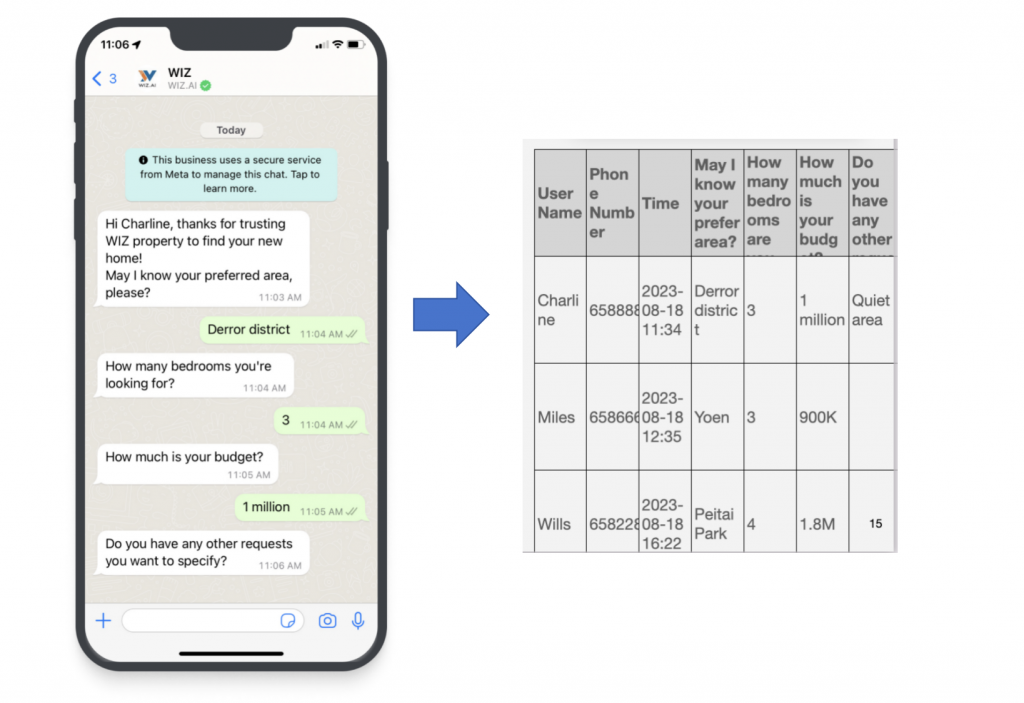 Act now for our time-limited offer
You've seen the power of our voice AI-powered omnichannel engagement solution to transform customer engagement. Starting today through September 30th, we're providing 500 minutes of FREE calls plus a no-obligation free trial of our full service!

Don't wait – this unprecedented offer does not last long. Click here to register immediately and unlock voice AI capabilities that will revolutionize your businesses.