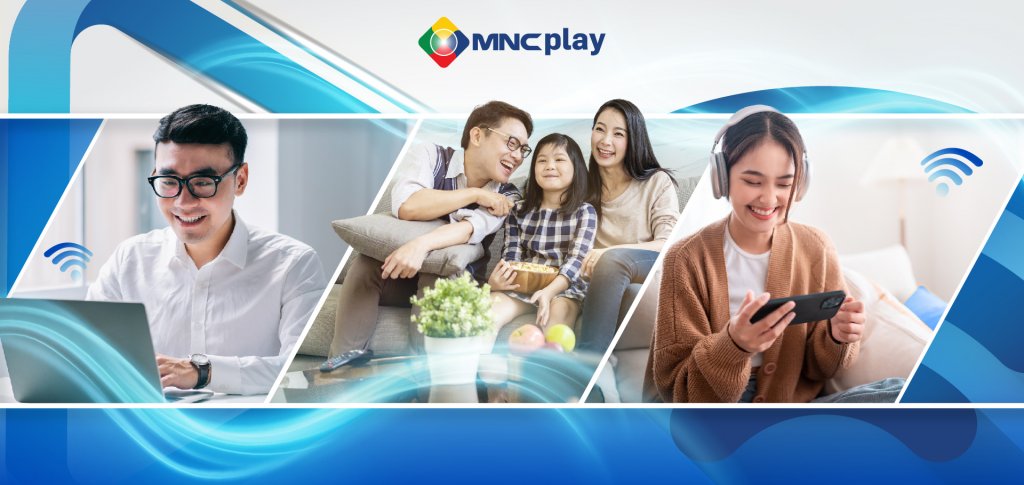 Founded in 2013, MNC Play has been providing Indonesian customers with IPTV, Broadband Internet and Multimedia Entertainment services under MNC Group. With a large subscriber base of millions of subscribers, retaining subscribers and expanding recurring revenue has become a pivotal part for MNC Play to sustain growth. Moreover, with a wide array of services, upsell and cross-sell are also important to MNC Play's strategy.
For a long time, MNC Play struggled with its outbound capacity calls to increase retention (payment reminder) and upsell (renewal & add-on) due to the shortage of manpower. Faced with diverse cycles occurring monthly, quarterly and yearly, limited human agents proved inadequate to manually make reminder calls. Moreover, trapped in repetitive retention calls, human agents barely have time to deeply delve into other upsell promotions, which usually requires sophisticated pricing strategies. As a result, the company saw subscribers lapsed, renewal rate dropped and revenue growth slowed down.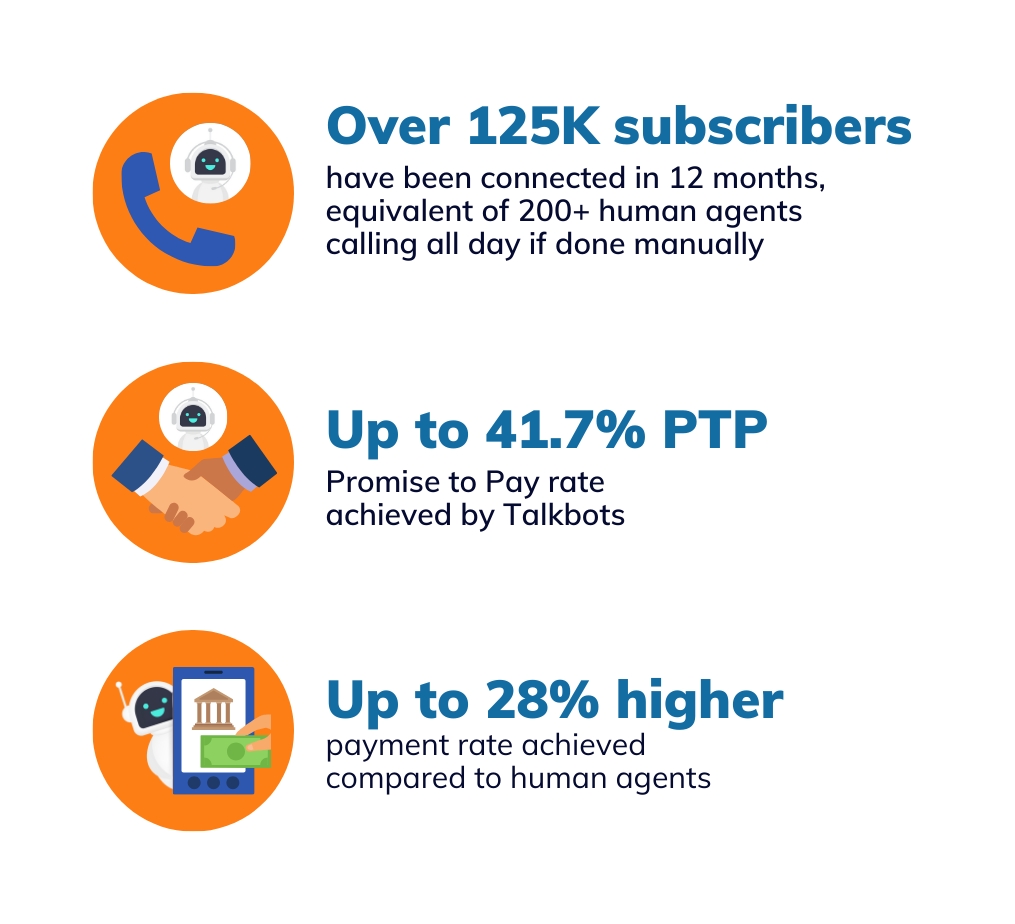 Scaling Engagement with Millions of Subscribers while Increasing Payment Rate
In Oct 2022, MNC Play adopted WIZ.AI's Talkbot as an innovative technology solution to solve its scalability issue, with an aim to boost operational efficiency and recurring revenue.
The implementation was done in phases with increasing needs from MNC Play. In the beginning, 5K reminder calls were automated per month; in six-month time, the automated calls reached 30K per month. Compared with human agents, WIZ Talkbot excels in effortlessly adapting to workload changes by scaling up and down call volume with no resource limitation. Within one year, over 125k subscribers have been connected by WIZ Talkbot, which would have required over 200 human agent force in strength if done manually.
Compared with human agents, WIZ Talkbot is able to extract conversation insights instantly and tag them accordingly. In the payment collection, Promise to Pay (PTP) is regarded as a crucial metric to track payment willingness but could hardly be explicitly asked or recorded by human agents. WIZ Talbots, on the other hand, can record every subscriber's payment intent with ease. With a PTP rate as high as 41.7%, WIZ Talkbot enabled MNC Play to keep a closer track on each stage of the payment collection, and have a more accurate estimation of the actual payment collection number.
The final collection results were also encouraging. WIZ.AI's Talkbot delivers far superior actual collection performance compared to human agents, constantly beating human agents with a higher repayment rate up to 28%.
Crafting a Consistent & Irresistible Customer Experience
Making high-volume routine reminder calls could be daunting and emotionally taxing for human agents. Naturally influenced by the emotions and responses of the customers they are calling, their moods can fluctuate throughout the day. This can create inconsistencies in the level of service provided in each call, jeopardizing the customer experience.
In contrast, WIZ Talkbot is consistent, stable and reliable. Trained with large quantities of data such as user responses specific to payment reminder scenarios, and empowered by well-designed dialogue flows, the WIZ Talkbot perfectly encapsulates the industry's best practices and consistently applies them to every call, crafting a coherent customer experience.  
Behind WIZ Talbot's consistent performance lies the consistent support from WIZ.AI's responsive team. The Customer Success team provides proactive back-end operation support and monitoring to ensure call efficiency, and regularly reviews the call performance with MNC Play's retention team regarding business results and actionable insights.  
"In terms of the features provided, they are effortless for us to use, and the WIZ.AI team is cooperative in adapting to our needs so that the user experiences are optimized over time, based on our feedback." noted Budiman.
With the objective of constantly optimizing the conversation experience to achieve best business performance, the Customer Experience team proactively conducts quality checks on the call experience. WIZ's product managers are available for consultancy anytime should clients require a second opinion on their collection strategy, or a more customized solution.
Human-AI Copilot to Unleash the Full Potential of Human Agents
By automating high-volume routine reminder calls, WIZ.AI's Talkbot frees up human agents from low-value manual tasks so they may focus on high-value strategic planning and other more valuable work.  With WIZ Talkbot relieving the agents of the bulk of such repetitive calls, MNC Play's renewal team was able to invest more energies in diversifying their renewal and upsell strategies, such as refining the collection touchpoints to optimise renewal rates and implementing diverse promotional schemes to expand revenue growth for the company.
As Budiman adds, "Before we partnered with WIZ.AI, our team was on a treadmill of mundane tasks that ate away their time and energy. Now, things have completely changed. The Talkbots have taken over all our routine reminder calls, empowering human agents to apply their expertise and interpersonal skills to build lasting relationships and foster customer loyalty."
Extended Partnership with Continuous Innovation
Following the success of WIZ Talkbot implementation, MNC Play has renewed their partnership with WIZ.AI for a second year. Additional use cases are being explored to further automate operations and boost revenues.
Currently, MNC Play is piloting Talkbots to upsell customers from monthly or quarterly subscriptions to yearly plans before renewal dates. This proactive outreach helps secure advance annual payments while reducing the manual effort required to repeatedly engage short-term subscribers.
Going forward, MNC Play is also keen to automate more processes with WIZ.AI's latest technology innovations, including integrating Talkbots with their other digital channels like WhatsApp and email to deliver promotions and notifications at scale.
In an industry where customer retention and upsell are key to growth, MNC Play's forward-thinking approach, powered by WIZ.AI's innovative voice AI solutions, sets a benchmark for others to follow. The future looks promising as MNC Play continues to innovate the way of engaging with customers, increasing operational efficiency and boosting revenue growth.
WIZ Talkbot is WIZ.AI's flagship product. The intelligent platform facilitates over a 100 million automated customer interactions hourly, enabling exceptional customer service and strong business ROI.
Empowered by WIZ.AI's proprietary TTS, NLP, and ASR technologies, WIZ Talkbot excels in understanding, listening, and communicating like a local, making it so convincing that 95% of users can't differentiate it from human conversations. It adapts to a variety of voices, switching from firm to soft, swiftly to cope with the different use cases.
Wondering how voice AI automation can improve your business results? Speak to one of WIZ.AI's specialists today.