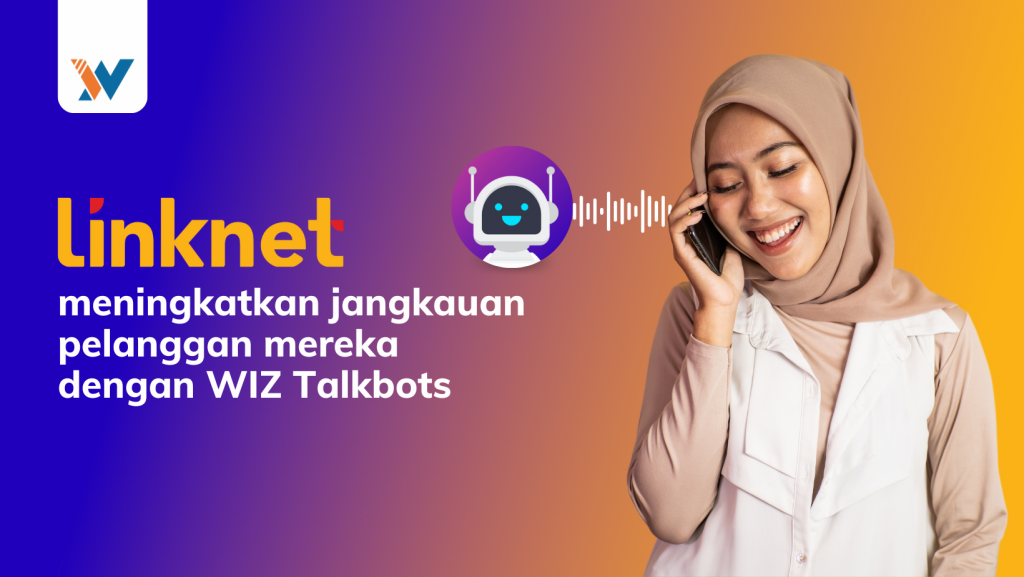 Link Net telah menghadirkan konektivitas internet dan hiburan rumah bagi masyarakat Indonesia selama lebih dari 20 tahun dengan First Media, i-solution, dan Link Net. Saat ini, mereka melayani hingga 2,8 juta rumah di 23 kota di Indonesia. Untuk mengelola akun pelanggan, terutama saat penagihan jatuh tempo tagihan, hal itu merupakan sebuah proses yang cukup panjang.
Peningkatan Tingkat Janji Untuk Membayar
Pengurangan Beban Panggilan Untuk Agen Manusia
Pelanggan Tidak Mengenalinya Sebagai Bot
"Awalnya kami menggunakan SMS untuk penagihan, yang kemudian kami tambahkan dengan panggilan keluar," kata Pak Ikhsan Kurniawan, Head of Printing and Collection Department di Link Net. "Secara bertahap, kami beralih ke email dan sekarang, kami juga menggunakan WhatsApp. Kami juga mencoba Smart IVR, tetapi ternyata tidak cocok untuk penagihan jatuh tempo. Jadi, kami berhenti menggunakan IVR karena tidak memberikan hasil."
Link Net juga menghadapi kesulitan dalam merencanakan kapasitas panggilan keluar untuk penagihan. Ketika tim penagihan mengalami kekurangan tenaga kerja, perusahaan akan sementara memindahkan orang dari departemen lain untuk membantu mengelola beban kerja. Hal ini mengganggu pekerjaan sehari-hari. Link Net menyadari bahwa mereka memerlukan cara yang lebih efektif dan efisien untuk melakukan tindak lanjut terhadap akun-akun yang jatuh tempo dan mulai mengeksplorasi pilihan yang dapat membantu kinerja penagihan.
Melampaui percakapan satu arah
"Kami menyukai solusi yang diberikan oleh WIZ karena Talkbot merupakan interaksi dua arah, tidak seperti IVR yang sangat terbatas," kata Pak Ikhsan. "Ini juga membantu kami dalam menyeimbangkan beban kerja. Jika seseorang dari tim penagihan mengambil cuti melahirkan, kami dapat segera menambahkan lebih banyak bot untuk mengisi kekosongan."
Solusi tersebut memberikan hasil yang nyata. "Ketika kami mencoba WIZ, hasil kami meningkat, terutama dalam tingkat koneksi," kata Pak Herri Dwi Prasetyo, MIS Leader Head of Printing and Collection Department di Link Net. "Tingkat koneksi untuk agen manusia sebesar 25 persen, tetapi dengan Talkbot dapat meningkatkan menjadi hampir 50 persen." Penggunaan Talkbot juga membebaskan agen tim penagihan dari tugas-tugas mudah namun repetitif. Serta, mengurangi beban panggilan keluar bagi agen tim penagihan menjadi separuhnya. "Ini memberikan waktu lebih bagi agen kami untuk fokus pada melayani pelanggan dengan lebih baik dan menangani keluhan yang lebih kompleks. Penggunaan bot membuat peran agen manusia menjadi lebih strategis," tambah Pak Herri.
Pengalaman pengguna yang luar biasa
Ketika membicarakan pengalaman mereka dengan WIZ, Pak Herri memiliki hal-hal baik untuk dikatakan. "Aplikasinya Wiz sangat mudah digunakan dan memiliki sistem validasi yang baik," katanya. "Misalnya, jika seseorang mencoba mengunggah nomor yang sama dua kali, sistem akan segera menghapus salah satunya."
Bekerja dengan tim WIZ juga memberikan pengalaman yang positif. "Semua anggota tim WIZ sangat mendukung dan membantu," lanjut Pak Herri. "Apapun yang kami butuhkan, proses eskalasi sangat cepat. Sebagai pengguna, hal ini sangat membantu untuk mengetahui bahwa segala sesuatu diproses dengan cepat dan semua anggota tim dapat dihubungi."
Bagi pelanggan Link Net, perubahan strategi tersebut hampir tidak terlihat. "99% pelanggan tidak menyadari bahwa mereka dihubungi oleh robot," kata Pak Ikhsan. "Dari 20.000 yang dihubungi, hanya 10 yang mengeluh karena dihubungi oleh bot. Ketika itu terjadi, kami menghapus pelanggan tertentu dari database panggilan Talkbot selanjutnya."
Cara baru untuk mempertahankan pelanggan lama
Dengan keberhasilan strategi penagihan baru, Link Net bersemangat untuk mencoba Talkbot dengan skenario lain. Perusahaan memutuskan untuk mencoba otomatisasi retensi pelanggan atau perpanjangan kontrak. Bersama tim WIZ, Link Net membuat skrip baru untuk menghubungi pelanggan yang tidak membayar langganan mereka selama tiga bulan. "Tingkat koneksi untuk kategori pelanggan ini lebih rendah," jelas Pak Ikhsan. "Kami berharap dengan skrip retensi baru, kami dapat mendapatkan kembali pelanggan dengan menawarkan promosi."
Masih dalam tahap awal strategi retensi pelanggan dan hasilnya masih harus dilihat. Tim saat ini sedang menyempurnakan skrip berdasarkan umpan balik, untuk menyampaikan pesan yang tepat.
Melampaui batas otomatisasi dan analitika
Link Net ingin menetapkan standar yang lebih ketat untuk proses penagihan mereka di masa depan. "Kami menuju ke arah digitalisasi, segalanya harus menerapkan otomatisasi," ungkap Pak Ikhsan. "Jika seseorang gagal membayar atau melewatkan pembayaran, mereka harus dihubungi secara otomatis. Segala sesuatunya harus sudah terotomatisasi, termasuk panggilan ulang. Kemudian hasilnya dapat diperbarui secara real-time di sistem Link Net."
Bagi Pak Herri, data adalah kunci rahasia untuk kesuksesan yang berkelanjutan dan masa depan. "Di masa depan, kami berharap dapat mengunduh transkrip percakapan langsung dari sistem," katanya. "Dengan fitur ini, kami dapat menggunakan semua informasi untuk mendapatkan umpan balik dan keluhan dari pelanggan. Jadi ketika agen manusia melakukan panggilan tindak lanjut kepada pelanggan tertentu, mereka akan segera mengetahui apa yang dikeluhkan oleh pelanggan. Kami akan memiliki riwayat pelanggan dan dapat memberikan pengalaman yang baik."
Tim koleksi sangat puas dengan WIZ Talkbot sehingga mereka merekomendasikan solusi ini kepada tim penjualan Link Net, untuk mendapatkan pelanggan baru. "Sebelumnya kami tidak pernah menghubungi tipe pelanggan seperti ini," akui Pak Ikhsan. "Ini adalah sesuatu yang akan kami eksplorasi dan bahas lebih lanjut dengan Tim WIZ."
Tertarik bagaimana otomatisasi suara AI dapat meningkatkan hasil bisnis Anda? Berbicaralah dengan salah satu spesialis kami hari ini.