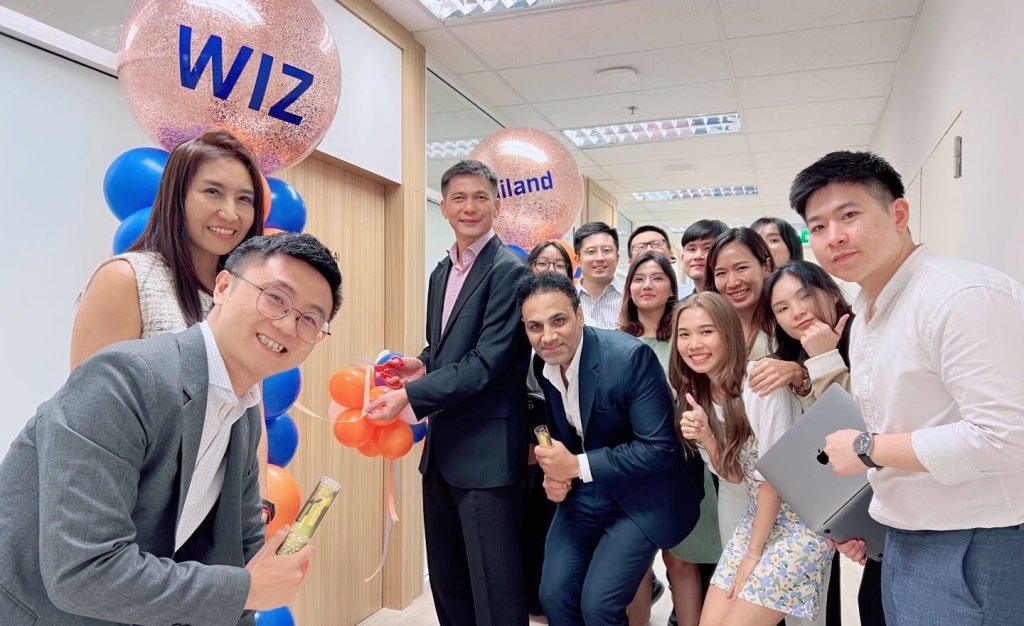 Bangkok, 02 March 2023 – WIZ.AI officially opened its new Bangkok office in early March 2023. Ribbon-cutting was done by WIZ Chief Sales Office KC Wee, with WIZ Thailand Country Manager Tony Wang Xintian adding sparkle to the festivities.
"This is an exciting time for WIZ," Wang shares. "Thailand has always been a key market for the company. Opening this new space speaks of the WIZ commitment to be where our customers are. We are proud of the local team's efforts in achieving 90% accuracy in our Talkbot capabilities for Thai, especially in pronouncing customer names."
WIZ is already partnering with key players in the banking, fintech, telco and e-commerce industries in Thailand. Thai businesses have been using the WIZ Talkbot to reach more customers via automated calls, with local nuances like Northern Thailand and Southern Thailand accents integrated into the call scripts.
"We look forward to helping even more local businesses grow in the coming months," Wang adds. "Our presence in this market makes us available to many more companies to try and experience the benefits of having WIZ Talkbots manage their customer engagement activities."
If you're a Thai business that's curious about what WIZ.AI can do for you, please reach out to one of our Thai business sales executives through our online contact form.
About WIZ.AI – WIZ.AI, a global leading conversational voice AI technology innovator, is revolutionising traditional B2C communication. Its solutions enable businesses to deliver hyper-personalised, omnichannel customer engagement at scale. WIZ.AI has over 200 clients, many of which are Fortune 500 companies from various industries, including Banking, Insurance, Fintech, Telecommunications, E-commerce, Healthcare and the Government
About the WIZ Talkbot – WIZ.AI's intelligent Voice solution, the Talkbot, leverages highly customizable, adaptable, and humanised AI to deliver more than a hundred million automated customer interactions every hour. This enables its clients across various industries and functions to deliver quality, attentive and engaging customer services. WIZ.AI Talkbots are designed to intuitively understand customer intents, helping to reduce the wait times by quickly connecting customers to the relevant department and business unit.
95 percent of all Talkbot users are unable to tell that they are engaging with a machine. WIZ.AI's Talkbot has powerful self-learning extended dialogue management, speech pattern recognition, and text-to-speech voice customisation that allows it to communicate in over 9 countries' local languages and accents. Some of the Talkbot's language capabilities include English, Bahasa Indonesia, Malay, Mandarin, Thai, Tagalog, and Vietnamese, as well as Singlish and other informal forms like Taglish (an informal variant of Filipino English).
The Talkbot platform also empowers and optimises data driven customer engagement through its analytics capabilities. By transforming previously unstructured voice data into rich, structured data, clients using WIZ.AI's analytics platform can map out personalised customer journeys and identify common pain points. Insights generated by WIZ.AI's Talkbot can be leveraged to get the right messages at the right time via the right channels, boosting customer acquisition and the sale of value-added services.