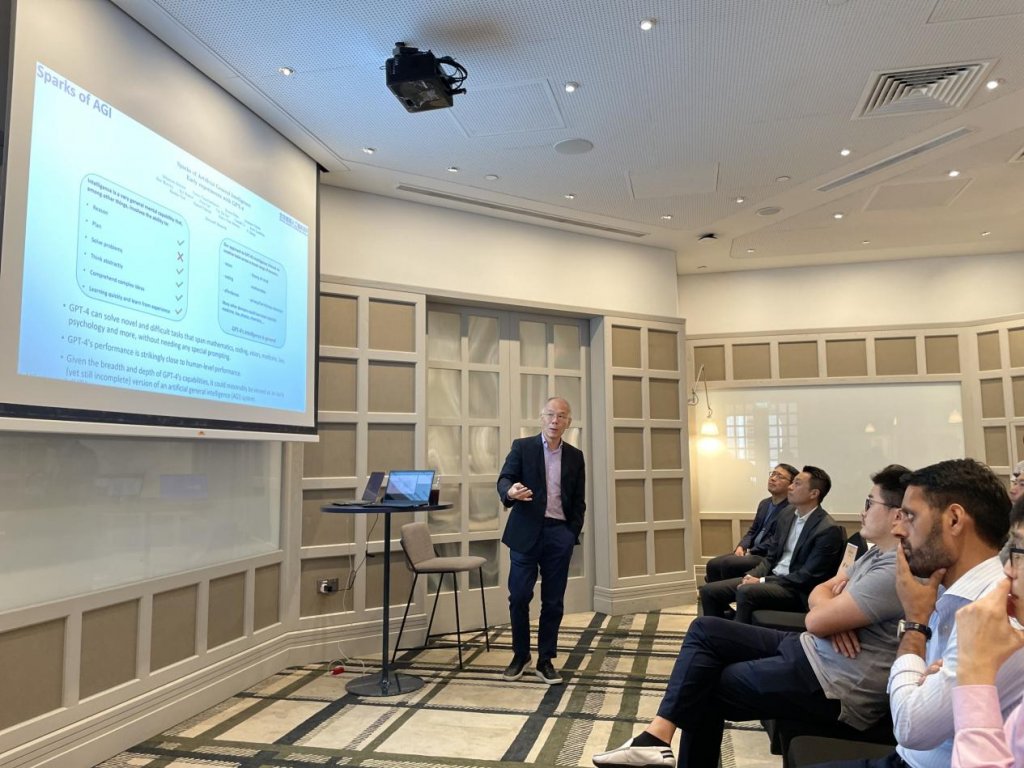 Envision a world where the multitude of apps becomes obsolete, replaced by a single AI agent that can schedule your appointments, make calls, order food, and handle most paperwork. This is not a distant dream but an emerging reality that will soon become an integral part of our everyday lives. 
During an in-depth seminar held by WIZ.AI in Singapore on November 7, 2023,
Dr. Hongjiang Zhang
, a Fellow of IEEE and ACM and a 2022 electee to the National Academy of Engineering (US), reassured that the AI should not be feared for job displacement. Instead, the forthcoming Artificial General Intelligence (AGI) era is poised to create unprecedented job roles and opportunities. Both tech giants and startups are well-placed to enter this arena and carve their niche.
In the wake of ChatGPT, the software industry is facing a seismic shift that will inevitably reshape everyday life and work, according to Dr. Zhang. He also highlighted that while the AGI era will likely affect most jobs, it will also create unprecedented career opportunities. The key, he suggests, is leveraging a large language model (LLM) to enhance personal efficiency.
Dr. Zhang discussed the strides made by tech giants like OpenAI, Microsoft, and Google in LLM research and applications. He urged us to view ChatGPT as a potential 'foundation model,' which could pave the way for AI capable of communicating in natural language, images, and video. He pointed out the past focus on vertical, industry-specific AI models that lacked interoperability, a limitation shattered by the foundation model concept, heralding vast commercial possibilities.
Citing OpenAI CEO Sam Altman, Dr. Zhang equated the rise of AI to a fourth technological revolution, succeeding those of agriculture, industry, and computing. He referenced a U.S. study on AI model's impact on labor market indicating that 80% of the workforce could have at least 10% of their tasks impacted by LLMs, affecting all income levels, with high-earners potentially facing more significant changes.
What Will Happen to the Rest? Unemployment or Idleness? Dr. Zhang suggested that the AGI era will usher in entirely new business models and companies born from AGI technology. As AI models mature, their applications diversify. Consumer-facing tasks like document writing, chatbots, code generation, and meeting transcriptions are already being automated. The future could see the creation of a new platform to replace app stores, where all needs are met by AI plugins, leading to significant shifts in B2B business models.
In the realm of Software as a Service (SaaS), customer support could be the vanguard of sectors transformed by AI. A survey of international corporations revealed that more than 57% intend to employ ChatGPT for customer support. Hence, the most sought-after B2B companies might soon be those facilitating services for the entire AI ecosystem.
Take WIZ.AI as an example, a rapidly growing voice AI provider in Asia, pioneering LLM application with its service framework, offering tailored, multilingual, and multimodal tools for various industries. WIZ.AI has notably used LLM tools to achieve over 95% accuracy in telephone orders, halving costs, and setting the stage for widespread industry adoption.